On April 5th, I went to see Dirty Mary at the St. Ann's Center for Restoration and the Arts in DUMBO, where they were opening for Joe Strummer and the Mescaleros. The three hard-rockin chicks who've been playing larger and lager shows in recent months got the crowd's excitement level high right away with their set, and it would have been well worth the trip to this remote venue if I'd just seen them. I'd always loved The Clash, but I'd been tiring lately of seeing too many aging rockers living on the laurels of their past legacy, so I figured I'd just stick around and see what Joe looked like these days.

After a quiet period during the early 1990's, Joe assembled some of the finest musicians around to form the Mescaleros in 1999, and the results are dazzling. Words (which are all I've got) can't describe how blown away I was by Joe and his current band. People around me felt the same way, frequently turning to each other and gasping "Oh my GOD!" at the end of songs. Joe's in great shape, energetic and forceful whether singing his new material or old Clash songs. His left leg keeps frenzied quarter-note beats as he strums his guitar and spews forth his truths. I didn't know what to expect of The Mescaleros, but the sound is what you might get by extrapolating The Clash ahead 20 years - a basic high-energy British Punk sound, with a touch of Jackson Five funk.
I didn't get the names of the various Mescaleros, but Joe's musicians are masters, most playing several instruments. The rock-solid bassist played trombone on one reggae/ska number, while the lead guitarist (who provides vocal harmonies) filled in on bass. Joe had a new drummer for this gig, who surprised us with latino/congo interludes. Two additional guitarists rounded out the sound, taking turns playing keyboards at various times. One (white suit) also played a funky baritone sax at times; the other (black suit, red shirt) also played violin, providing an amazing solo on their cover of "Walk On The Wild Side"; he told me later that rehearsals can be chaotic, since they all play so many instruments so well they have to settle and focus. Joe has dealt with his legend status well, keeping a healthy level of humility while continuing to express himself through his music. Asked for comments after the show, he just said "I want to thank everyone who came out to see us - we really appreciate it." We're damn thankful too, Joe!
A week later, I attended the homecoming show of the Toilet Boys, following their recent tours of Europe and the US. At Don Hill's on April 12, Abby Gennet's band SLUNT opened for them,

along with White Light Motorcade (formerly known as The Blowup, formerly known as the Mirror People). It's great to see Abby's band is still rockin as ever, while she's reveling in her new position as daily VJ on MTV/2. The Toilet Boys put on one of their best shows, and it was clear that they were really happy to be back playing for their home crowd again - and the crowd was elated to have them back. They've replaced departed magician Adam with a new bass player, who holds up the bottom well and sings great harmonies. A handsome hunk, his glam factor isn't quite up to the rest of the boys, but maybe their costume budget will help round out their appearance.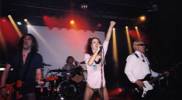 April 17 brought #14 in the monthly series of BITCH shows at Don Hill's. Opening for the fifteen ladies was the band called SKÜM, former members of Young & Fabulous. They're headed up by the kraziest bitch of 'em all, lead singer Fern Burns. Wearing her trademark "Let's go to sleep" nightie (which looks and fits like she's had it since she was about four), she pranced and gyrated about the stage while exciting the crowd with such songs as "Pussy Power" (she's GOT it!), "I Wish I Had a Cock" (I'd rub it in your face), "Your Mother Sucks Cocks in Hell", and other examples of modern kultur.

This BITCH show was one of the best to date; just when you think the house band (David and Bruce on guitars, Tommy USA on bass, and drummer Johnny) can't get any better, they come on tighter and stronger than ever, propelling the chicks to new heights of metal furor. I love these monthly shows, not only for the performances, but they seem to be so empowering to the multitude of bitches who attend each month at Don Hill's. Picture galleries of past shows are on line at lundissimo.info/bitch/.