Sea Monster Follow-up

I raved about having discovered the music of Sea Monster last time, at an "unplugged" performance by lead singer Arthur and guitarist Fred. I caught two more shows this summer, with Mike Rock on guitar, Adolph "The Machine" on bass, and drummer Phil, and I was even more impressed. Heartfelt songs, intense, dramatic (sometimes near-manic), gripping performances. After all these years, these guys are still out there moving people and kicking ass. Arthur and his weathered rockers are a true inspiration. We'll be seeing more of Sea Monster! Check out their site at www.seamonstermusic.com.
Femme Fatale Festival

Carrying on in the tradition of female rock specials such as BITCH and Medusa Festival, Queen V organized a Femme Fatale Festival show at Don Hill's July 30, featuring sets by Zooloft, ICU, The Drive, Mother Goddess (Maya), Detox Darlings, Damn Dirty Apes, Bex, and Dawn (of Slush Puppies), and hosted by Abby Gennet (of Slunt). All these nights with hot chicks rockin us with sounds and lovely sights - we're getting spoiled, dude bands really have to put on some great shows to compete with this stuff.
The Cat Bar at Pussycat Lounge
And speaking of females - The Pussycat Lounge (Greenwich & Rector Sts., two blocks below the World Trade Crater) has been a topless bar for years. The owner, a gentleman named Robert, decided to feature rock shows in the 2nd floor CAT BAR,

so he equipped it with a new sound system and enlisted Frank Wood to book Saturday night shows there starting July 26, plus occasional weeknights. Wednesday nights, Tyler Fire hosts Lucky Stiff - an Erotic Circus Cabaret, featuring freaks, strippers, and other bizarre acts. Mad Juana performed on one Wednesday (Aug 13th) before the freak show to celebrate Karmen's birthday - everyone loves the circus!
It's a great space, elegantly designed and maintained, with a comfy couches. A 3rd floor lounge has a balcony overlooking the stage, and the titty bar downstairs lends a sexy air to the whole place. This unique club experience makes it worth the trip way downtown for many folks, most of whom enjoy having the option of going downstairs to watch the dancers wriggle and writhe between the bands, where rockers mingle with the regulars who spend their evenings at that bar. Almost makes you wish other rock clubs would add topless bars downstairs. Check the calendar at www.mrfwood.com for future shows.
Misfits Fiend Fest Tour
The Misfits organized a grand tour consisting of D.I., Balzac, Agnostic Front, The Dickies, The Damned, and The Misfits (Jerry Only with Dez Cadena and Marky Ramone), which came to NYC on Aug. 19th, playing a show at Exit Nightclub (56th St. & 11th Ave.) booked by Nicki Camp & Ronnie G. with Don Hill. I was pretty psyched to see some of my favorite bands in one night.
My reactions: First, EXIT is usually a disco, not designed for live performances. The main hall is three majestic stories tall, a bit cathedral-like. This is great for a feeling of space, but no skilled sound mixer can compensate for the reverberation of the sound off the vast smooth wall surfaces; so from anywhere but right up at the stage, the effect is a wall of sound, a combination of direct stage audio and many delayed signals from all over, blurring the vocals and the distinction between instruments. The result was that I wasn't drawn in to the bands I hadn't come to hear. At first D.I. sounded like shit, but when I went up front so I could hear them to give them a chance, I realized this 80s L.A. punk band were pretty good. Lead singer Casey delivered his message pretty intensely (despite his occasional California goofiness). Balzac didn't win me over. Japanese punks really get into it, play it well, but somehow I don't relate to foreigners who are giving us back a culture which they imported from us; it's just not the same as hearing punk music which has risen out of the vile streets of NYC.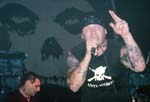 On the other hand, Agnostic Front was the high point of the show for me. Roger Miret's delivery is amazingly intense, and he had the crowd swirling in a violent moshing circle throughout their set. It was a tough set to follow, and The Dickies didn't do it for me. I've liked some of their tunes alright, but there was that wall of sound effect; and when lead singer Leonard launched into yet another stand-up comic schtick between songs, I just had to take a break. I was right back up front for The Damned, though, and they delivered.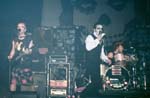 Captain Sensible wailed on his guitar, in silly shorts, a "McShit" T-shirt, and a rodent nose mask which covered his face the whole time. David Vanian wore his typical formal attire, and held his 1940s-style mic cupped in his hands like a classic crooner. This is a great contrasting effect when they're doing any of their familiar punk tunes; but too many of Vanian's new songs have a mellow crooning feel to them. At times I had to ask myself "How did I get from this punk concert into a Las Vegas lounge??" Of course, he can't be expected to just go out and give the people what they want, he needs to perform his current material. Overall, it was a thrill to see them, and their closing rendition of "Smash It Up" was fantastic. I dunno if I was just exhausted, or if it was the old wall-of-sound problem again, but The Misfits didn't thrill me. They did way too many Ramones covers for me, and all sped up, like the Ramones on speed and/or steroids. I didn't think it would be any better up front, so I went up to the roof lounge to smoke (MORE clubs should have those!).
White Trash Barbecue

Phil and Patti hosted the fifth annual White Trash Barbecue at their home on Saturday August 23rd. Everyone started out in a great mood as the long humid heat wave had lifted, providing us with perfect weather for the festive occasion. Throughout the day, people drank beer, cooked on the grill, listened and danced to bands, drank beer, relaxed in the sun, and drank beer. Oh yeah, there was plenty of beer, too. As always, the music was provided by a mix of "real" bands and impromptu groups put together for the occasion. I got out there about 4 PM, so I missed the first few, but performers included: The Disruptors, Sick Duck, World War IX, Corporate Waste, Jones Crusher, The Wanda Jackson Five, Graveyard Slut,

The Griswalds (cover band featuring Filthy Phil), Maggot, The Bullys, The Blind Pharaohs, The Carvels, and Superthrive. Phil's got some great neighbors (or else they all leave town on BBQ weekend). The music was supposed to stop by 11 PM, but most bands went a little over, and no one complained as the rock marathon culminated in the hard heavy sounds of Superthrive well past midnight (and they showed great patience, waiting to play without being sure they'd be permitted to). Two women (Layne & Joey) spent the day shooting stills and video for a documentary project on the New York Rock scene, and they got a pretty good indication that things are far from dying down in this town (as too many negativos would have you believe).
Alright my sweeties, I shan't ramble on endlessly this time - surely you must have other things to do.