The Psychedelic Furs

I went to see the Psychedelic Furs up at Spirit on April 8th, and they were just divine! Richard Butler is the incarnation of Grace, expressing every lyric with his body and hands as well as mouth, all the while radiating such joy and love, which is returned by his audience. Heaven - is the home of all hearts (not, for tonight, a place where nothing, nothing ever happens). Richard comes down off-stage and sings amongst his admirers, who strain to touch him.
I also caught the last few songs by The Alarm, who I'd never seen before.

It was great to see those aging new wavers having such a great time on stage! John Strausbaugh's thesis in Rock Till You Drop (that old rockers owe it to the world to reitre already and stop living off the past) might apply to the Stones and even many of the 70s-80s bands that are doing routine "comebacks" - but it's definitely inspiring when some do keep "it" alive and continue to thrill their disciples.
Spirit is typical of the huge West Side discos that I avoid, and I was reminded of why, despite the excellent sound and video systems. The listener-insensitive DJ mindlessly played disco remixes of popular 80s favorites between the bands to this crowd that obviously was there to hear the real thing. The relentless pump-pump-pump right through/over such tunes as "We're Feeling Fascination" was absurdly irritating. And the second floor of the place looks down on the performance space from a glass-enclosed balcony - so between every song during the Furs set, the vapid disco music they were playing for those customers provided unwelcome distraction. I know, they've gotta make their money...
Lenny Kaye & Queen V
The following night (Friday the 9th), I saw Queen V give just about the best performance yet at Don Hill's. The way I've been so consistently blown away by her shows over the past couple of years, it seemed hard to believe she could do even better, but this show was over the top. Her band has stabilized into a solid outfit which gives her vocal performance the support it needs and deserves.
And, as hard as it is to follow up a Queen V with anything that impresses me, that is precisely what Lenny Kaye did with his subsequent set. As much as I'd heard of him over the years, I'd never seen him perform, and was unprepared for the way he delivered every one of his poignant songs with such intensely casual cool, producing such mesmerizing guitar melodies and tones that I was transported to a very rarely visited space. I thanked him profusely afterward, and he thanked me for my visible enthusiasm.
Patti Smith Band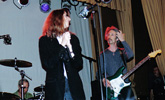 Lenny was gracious enough to grant me two comps to the Patti Smith show at Warsaw on May 1st, so I finally got to see him perform as part of her band. Patti's another old-timer I never saw "back in the day," and despite occasional regret at the things I missed back then, catching up and seeing people like her for the first time is SO wonderful! The clear, beautiful plaintive tones of her voice reach your heart equally well on the rockin' tunes and the more subdued acoustic ballads. And Lenny was just sublime, weaving enchanting melodies on the guitar, and occasionally taking the bass when the bass player played keyboards on some songs. There's a spirituality about her style of delivery that goes with the frequent use of scriptural passages in her poetry, and with her hand motions that often seem to be taken from ancient Catholic paintings. Dressed in black slacks, a white shirt and loosely-fitting sports jacket, she appears boy-like while exuding a charming femininity, straddling that line with her gangly dancing during guitar solos. And between the songs, she took time to chat warmly with the audience about whatever came into her head, making frequent eye contact with her admirers.
Which was lovely, until she spoiled the concert for me. She just couldn't leave it alone. She had to stick in an anti-war, anti-US-government speech, going so far as to read an excerpt from Henry David Thoreau's Civil Disobedience - "If a thousand men were not to pay their tax bills this year, that would not be a violent and bloody measure, as it would be to pay them, and enable the State to commit violence and shed innocent blood." Oh, how wonderful! Before the current campaign in Iraq, I could handle arguments against it alright. But over year later, even the Democratic candidate is admitting that we can't just abort the process now begun. And more critically, there are now thousands of Americans who have volunteered to put themselves in harm's way over there, whose survival and success depends on a steady stream of supplies. If enough people were to heed Patti's words, it would not only have catastrophic effects on the overall situation in the Middle East, but would inevitably cause the shedding of the innocent blood of Americans and cost American lives. The little speech she gave was one which al Qaeda would undoubtedly have gladly paid someone to give. I tried to put this out of my head when the music started again, but I found I was unable to tolerate the sound of her voice after that, forcing me to spend the remainder of the concert eating perogies and smoking outside. Nice goin, girl - such beautiful music, such ugly politics!
But Spring is here, I'm not gonna let the moonbats get me down, there's another month of great music coming up!