LUNDORAMA at Don Hill's - Wed. March 3
Hey, I'm back from my unofficial annual break from my ramblings here, with too much to tell. This month got off to a great start, with the long-awaited return of Les Baton Rouge to NYC for the first stop on their US tour, promoting their new My Body - The Pistol CD. I'd kept in touch with lead singer Suspiria Franklyn over in Germany since raving about their Don Hill's show last June, and I caught three out of their four NYC shows this year, at Sin-é (2/26), Pussycat Lounge (2/27), and their finale at Don Hill's (3/3).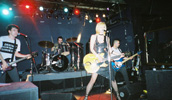 Steve Blush had booked them for Röck Cändy, and let me make it a LUNDORAMA night knowing how I love them. I wanted LBR's final show here to be the highlight of their NYC visit, so I got some of my favorite gr-r-rl rock bands for the lineup, and mutual admiration abounded between the local and visiting bands. It opened with the heavy plaintive rock sounds of Hulda (a new one to me), followed by an unusually strong performance by

Meghan and New York No Stars. Tibbie-X and The X-Possibles were tighter than ever, rousing the punk spirit in the crowd, and Apocalypstik (with an ailing Aria) gave us a set ranging from crazy & wild to sweet & tender as always. I love nights when bands don't just play and run, and the chicks in the local bands were very happy they stuck around for Les Baton Rouge, as Suspiria and the boys delivered a searing performance, including some new tunes soon to be recorded. Suspiria rocks when she's playing her guitar, but is even more gripping when she puts it down and gesticulates, stepping down off-stage to confront the audience face-to-face. A real wakeup call, as intended! Check out more photos at LBR.
Steve Blush hosted this show of bands from the recent Radical Records compilation CD, featuring THIS (CD release), Detox Darlings, The Compulsions, The Drive, Grounded, and QUEEN V. This CD contains some of the best tracks by some of the best bands around, and when they've played together recently the project binds them in a common effort which brings out the best in their performances. I was privileged to DJ between the sets, and played exclusively rock tunes from NYC rock bands old and new, keeping the spirit alive.
Man On The Road - SXSW in Austin, Texas - March 17-21
As I didn't get a chance to spend much time with Les Baton Rouge while they were here, I had to chase them down to Austin for the last stop on their US tour. My son JP was also on spring break from UT Law School, so the timing was perfect. But Austin offered even more. Starting out right, first thing I did was get into an all-American Texas groove and go out to the range with JP, with a selection of handguns and his new .22 rifle to shoot some targets - yeah! Lotsa folks from these parts and [especially] Europe think those people are "gun-crazy" - I just felt good being among people who take personal responsibilty for their own safety and defense.

Then it was on down to Stubb's Barbecue for the Joan Jett show. To my great delight, Detroit's Von Bondies played first, who I'd seen open for The Cramps in Brooklyn last year. Their powerful rock sound got my butt shaking even as I devoured my saucy barbecued pork sandwich in the outdoor arena. It was great to hang out with my son and some home town friends, as Blackhearts guitarist Dougie Needles, bassist Sami Yaffa, and drummer Thommy Price got ready for their turn on stage. The crowd's anticipation grew as Joan's standard prelude, The Who's Won't Get Fooled Again, blared out of the speakers. The band eased in on their instruments during the final notes, and launched into their set. Joan is one hell of a rock-n-roll powerhouse, pouring back the love which her adoring fans shower on her, and she and the boys put on an exhiliarating show.
The following night, I fulfilled a decades-long dream by seeing Little Richard at Austin Music Hall (click for Little Richard Austin video). As soon as the opening band (Cake, ugh) finished, I worked my way right up front, and when the crew dragged Richard's grand piano out for his set, they stopped it directly in front of me. His fantastic band did the traditional funky intro thing à la the Fabulous Flames, and finally Richard pranced out and stood atop the piano, coaching the huge crowd to sing along on "Womp bomp-a-loo-bop, a whomp bam boom." Such incredible syle and charm - "Not PAT Boone, BAM BOOM!!!" I felt like even more of a kid than usual, mirroring his wide mad eyes with mine from only a few feet away - a live show, and eye contact too, I was in heaven! He sang many of his well-known hits and some great covers - Chain of Fools, Bony Maronie, It's Only Rock-n-roll But I Like It. At one point he said from the piano bench, "Y'know, when that 9/11 thing happened, well, that kinda bothered me..." - then he launched into I'm So Glad I'm Livin In The USA. He knows he's a legend, as his band surely does, and he has a great time - "Do you love me? Do ya?" <crowd cheers> "Oh, shuddup!" 71 years old, still rockin, playing encore upon encore. It took me hours to catch my breath again.
I went straight from Little Richard to a party thrown by the SXSW organizers in a warehouse way east of town, where Joan Jett & The Blackhearts played again. Another great show, in a much more intimate setting, but I was drained. And then whaddaya know, Cake played again. I Will Survive alright!

I finally met up with Les Baton Rouge at Pyramids on 6th St. Saturday night. Another outdoor show, in a small backyard alongside Waller Creek. The band had played many shows in the two weeks since I'd seen them in NYC, along the East Coast and through the South, but they put on as wild a show as I've ever seen them do. There's so much live music in Austin, much more so during SXSW, but LBR stand out. A stunned woman I spoke to blurted out a typical reaction - "I've seen SO many bands this week, and they all SUCK compared to these people!" Yeah, that's how it is - along with Suspiria's energy and captivating style, the musicians create mesmerizing melodic patterns with a steady rock beat that personify the lyrics of one song, Somersault:
Rock 'n' roll / It's out of control / It's in your hands / It's in your soul
I was crazy / Still am / I'm not looking / For another sham.

Pyramids was the last scheduled show of the tour, but the band got another final gig the next afternoon at Beer Land. They were all exhausted, basking in the sun, but when they took the small stage at 5:30 it all took off again, and one last American audience was dosed with the music of these unique Portuguese Berliners. After the show, we all went up to the home of Tim Kerr, the producer of My Body - The Pistol, where we finally had time for a little talk (elsewhere in this issue).
They'll be back - don't miss them!