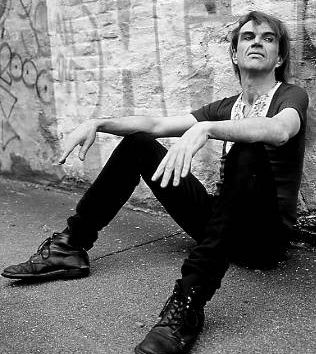 Debutante Dinner: For those who don't know, what the fuck do you do for a "living"?
Robert Lund: Good question! Basically, computer shit related to video. After working on Picturephone at Bell Labs for 5 years, I came to the broadcast industry along with the very first computer editing systems. I made them work better, learned about mini-computers before most folks had seen a computer, and spent the next few decades optimizing tools for artists, making computers work together so as to smooth the creative process. I've been a computer programmer, video engineer, worked with hardware and software. Now I put that experience and expertise to work as a consultant. I'm trying to move into areas where I put the computers to use myself, such as web site design and music.
DD: What do you do for fun?
RL: Well, I gave up dropping large rocks on frogs quite some time ago. So now my fun tends to center around rock-n-roll - soaking it up and dancing (preferably to live bands), singing (at Karaoke and occasionally with bands), DJ'ing, taking pictures of performances, sharing my mind through the web, writing, and most recently, hosting shows and booking bands. One goal is to get back to the most fun I can imagine, playing and/or singing in a band, which I haven't done in 20 years or so.
DD: There is no better statement on the "art" of DJ'ing than to plug in your iBook and let it roll. Do you agree?
RL: The "art" of DJ'ing is all about reaching people with the material you choose, making meaningful transitions and sequences of tunes, and sensing the vibe of the crowd so as to keep pleasing them. The iBook is a wonderful tool, so much more convenient than carrying around the old CD's and vinyls, and making it so much easier to make selections. But as with other media (such as video and graphics), I try to avoid confusing the tool with the art itself.
DD: Lundorama? Your idea? Isn't this whole city Lundorama?
RL: Etymology: lund (that's me) + Greek horama = sight; Lundorama is the view from my P.O.V.; cf. panorama. I got the idea from Sonny Fox's Wonderama (ancient Saturday morning TV kiddie show).
DD: Are you aware that your movements are sort of legend?
RL: It has been pointed out to me by many, many people that my energy and enthusiasm seems to inspire them. People tell me that if they see me at a show or party, they know they're in the right place. Legend? After a while it's occurred to me that perhaps they don't only say it to me, but to each other as well. I guess that can be extrapolated into the stuff of "legend".
DD: Your website 'lundissimo.info is fucking great, the pictures of you are fabulous. My favorite is the go-go dancing one. Do you have a favorite photo of yourself?
RL: I've been posting stuff on that web site for a couple of years now. I claim no great graphic design talent, so I've basically just organized a collection of mostly pictures, with some words, of me and various people in my life. Performers love the pictures I post of them, and people find lots of interesting stuff on the site. The section on Zoë (my dead wife) gets a lot of response from people all over the world, as she touched many people. Besides everything else, I've taken on the role of her Posthumous Publicist since her death, and it has turned out to be quite worthwhile.
Lots of folks seem to be fascinated by the many images of me, showing the many stages I've gone through in my years on this planet. I guess I have a few favorite pictures of myself. I like to feed off the energy of the kid in "Happy summer day at 3", to get in touch with that unrestrained innocent joy in that face. The one labeled "SFO Motel - 1981" also gives me a good feeling, as I was really high on mushrooms at the time (a self-portrait in the Seal Rock Inn, by the ocean at the end of Geary Blvd. in San Fransico - you could hear the seals barking on the big rock off shore). And I like the one taken at Don Hill's by Eric Rhodes, where I'm standing against the cigarette machine.
DD: After you've been out at a show what's the last place you hit before heading home?
RL: The MOTOR CITY BAR on Ludlow St. is nearly always my last stop before heading back to Brooklyn, regardless of wherever else I've gone. As I described in my Nov. 2001 NY Waste column (lundissimo.info/docs/nywaste/motorcity/), not only for my Guinness nightcap (since many bars don't have it!), but because of the kind of crowd that hangs there, and the great music the DJ's there usually play. I've accumulated something of a family of friends at that place, and it's become kind of a second home to me.
DD: Did you set out to be this well-known and loved?
RL: I didn't set out to be anything other than myself. I came back to life about 5 years ago after a Dope Decade, and took up night life with the fervor of someone making up for lost time. I used to party back in the 80s and before, but after all I've been through, I find that not giving a fuck at all what anyone thinks gives me a freedom I wish I'd had earlier on. Of course, it seems to have the opposite effect, bringing on love from so many people, friends and strangers alike. I thought it was kinda cute at first, a novelty, but it's taken on more meaning as I come to understand better just the effect I have on people. As Counting Crows sung in "Mr. Jones," "when everybody loves you, that's just about as funky as you can be." Works for me. But I keep the ego in check - I take no credit, I'm just enjoying this phenomenon as much as everyone around me.